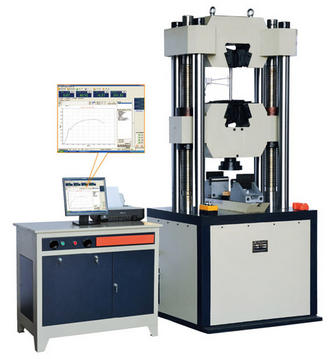 Introduction
WEW-300D/600D/1000D series microcomputer controlled electro-hydraulic servo universal testing machine
1、 Function and structure
1) WEW-D series microcomputer screen display type hydraulic universal testing machine is mainly done on the mechanical properties of metal materials and non-metallic materials in the tensile, compression, bending and shear test. The mechanical properties of the material such as high strength bolt, chain, wire rope, etc.. The oil cylinder underneath type four column double screw stiffness testing machine host as a platform, the computer measurement and control system is equipped with complete test data automatic measurement, equipment function and increased efficiency in the use of, is professional, high reliability, high degree of integration, flexible and convenient operation, easy upgrade, etc., and with change of the testing machine and the development of standards and constantly enrich and perfect. The machine adopts manual back valve control, hydraulic loading, electronic measurement, microcomputer data processing,.
2) The use of computer to complete the test parameters of the test process, test data and test curve of the collection, processing, analysis, storage and display.
3) This machine is equipped with a computer, printer, electronic extensometer gauges, photoelectric encoder and computer screen display testing machine, special test software, can accurately measure all material or component performance parameters, such as the tensile strength of metal materials, yield strength, non proportional extension strength, elongation, modulus of elasticity and other mechanical properties of provisions. Test results can be reported for six kinds of experimental curves of the test curves and the related experimental tests of the force displacement, force deformation, stress displacement, stress deformation, force time, deformation time.
2、Main specification
1

Max. capacity(KN)

300

600

1000

2

Measuring range

2%-100% of FN

3

Relative error of reading

≤±1%

4

Displacement measurement Resolving power(mm)

0.01

5

Deformation measurement accuracy

≤±0.5%

6

Clamping method

Hydraulic clamping

7

Round specimen clamping range(mm)

Φ6-Φ40

Φ6-Φ40

Φ6-Φ40

8

Flat specimen clamping range(mm)

0-30

0-30

0-30

9

Max. flat specimen clamping width(mm)

75

75

75

10

Max. tension test space(mm)

670

670

750

11

Max. compression test space(mm)

430

430

500

12

Cabinet dimensions(mm)

1100×700×950

13

Load frame dimensions(mm)

840×720×2000

840×720×2000

920×820×2200

14

Pump motor power (KW)

2

15

Load frame weight(Kg)

2600

2600

3300

16

Column net distance(mm)

480

480

580

17

Compression platen size(mm)

204×204

18

Span of bending roller(mm)

300

19

Width of bending roller(mm)

140

20

Shearing specimen diameter(mm)

Φ10

21

Max. piston stroke(mm)

150

22

Host structure


4 column 2 lead screw
More Products