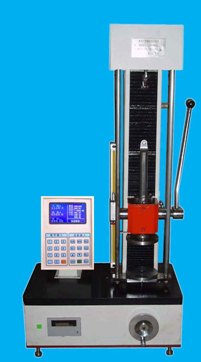 Introduction
TLS-50-2000 digital spring tension and compression testing machine
1、The purpose and characteristics of the spring tension and pressure testing machine:
1)used for a variety of springs, spring element of tension, compression test test.
2)manual loading measurement: spring test force, spring residual height, spring elongation, deformation, stiffness.
3) according to the GB and ISO standards for testing and testing data.
4) high rigidity and high stability of cantilever main engine frame.
5) the full digital acquisition and processing, automatic calculation and display of test results, print test results.
6) high precision measurement sensor, linear, good stability, to ensure the measurement accuracy of the load.
7) linear grating measuring displacement deformation, ensuring the accuracy and durability.
2、 spring tension test machine specifications
Maximum test force (N)

50

100

200

500

1000

2000

Test force minimum read value (N)

0.01

0.1

Deformation resolution (mm)

0.01

Beam moving stroke (mm)

200

240

Upper and lower plate diameter (mm)

60

100

Beam moving speed (mm/min)

manual

Test machine level

Dimensions (length x width x height) (mm)

300X204X960

520X300X1024

weight (kg)

36

85

Power Supply

220V±10%50Hz
More Products