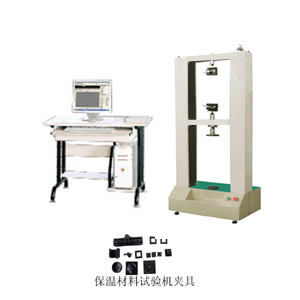 Introduction
First, the scope of products, meet the characteristics of the test machine: GB/T16491-2008 "electronic universal testing machine" and "JJG139-1999 electronic universal testing machine verification regulation"; meet: moulded polystyrene foam board GB/T6343; DBJ01-38 GB/T8811; rigid polyurethane foam plastic GB/T6343 DBJ01-38; polystyrene insulation slurry particles JG158-2004 adhesive; DBJ01-63; interface agent DBJ01-63 precausions mortar; DBJ01-63; polyurethane panels GB/T6342; JC/T547 (test material for polyurethane panels); ceramic tile adhesive JC/T547; polymer cement polystyrene insulation board GB/T6342; caulking agent DBJ01-6; compression test method for GB8813-88 rigid foam; bending test method for rigid foam GB8812-88; C-T547-2005 ceramic tile adhesive; JG149-2003; expanded polystyrene exterior insulation system; DBJ01-63-2002; quality inspection standard for polymer mortar for external thermal insulation wall; JG158-2004 powder polystyrene particles exterior insulation system; GB/T6343-1995 foam rubber (volume) and apparent density; JC 623 insulation of insulation mortar, insulation plate steel wire, standard Experimental requirements for materials such as plate, adhesive, mesh, etc..
1 host
The portal frame structure, the whole plastic shell, clean and elegant appearance.
The screw only under tension, effectively extend the life of rigidity and stability.
The precision ball ball screw loading mode, double nut tight backlash, ensure high rigidity and dynamic performance of the system.
2 AC servo drive system
] the use of the full digital AC servo motors and drives, Germany planetary gear reducer, the reducer for servo motor special accessory products, and directly connected with a motor, small volume, high efficiency, noise is extremely small. With driving high rigidity, lifting speed, acceleration, improve reliability, drive to adjust less links characteristics.
] A.C. servo motor with up to 50000 times adjustable speed ratio, so that the beam lifting speed in the 0.01-500mm/min stepless adjustable. With perfect over-voltage or over-current protection function. Embedded acceleration and deceleration operation mode switch is smooth and stable.
3 full hardware built in control system
Use of embedded digital integrated electrical technology; the full realization of the constant displacement control, constant force control test and constant strain control, excellent control performance, full digital hardware implementation, strong anti-interference ability and good stability.
The high degree of integration of software, the national standard for a variety of memory, different customers on the corresponding material
More Products