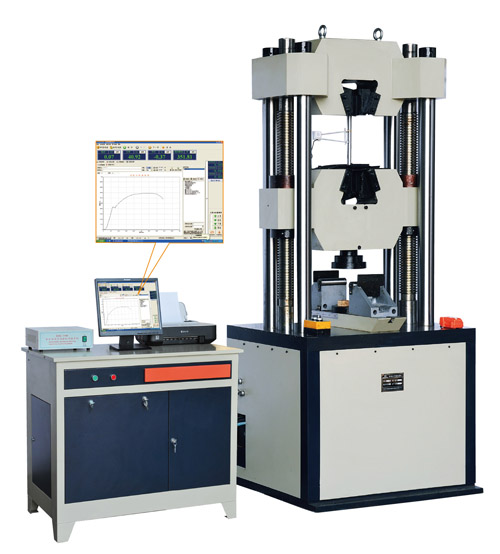 Introduction
WAW-300D/600D/1000D series microcomputer controlled electro-hydraulic servo universal testing machine
1、 Function and structure
1) WAW-D microcomputer controlled electro-hydraulic servo hydraulic universal testing machine is mainly used in the test of tensile, compression, bending, shear, etc.. Connect simple accessories and equipment, which can be used to test wood, concrete. Cement, rubber, etc..
2) The oil cylinder is at the bottom of the load frame, tension space is at the upside of the load frame, compression and bending space is between lower crosshead and working table. The lower crosshead is driven by motor though decelerator, chain transmission device, and screw pair to realize the adjustment of the testing space.
3) The machine adopts oil pressure transducer to measure load, and use ourselves developed computer screen display system. The system can display the load, load peak value, deformation, testing curves. Easily print diverse testing report and as well as edit customized report form by users themselves.
2、Main specification
No.

Item

Specification

1

Max. capacity(KN)

300

600

1000

2

Measuring range

2%-100% of FN

3

Relative error of reading

≤±1%

4

Displacement measurement Resolving power(mm)

0.01

5

Deformation measurement accuracy

≤±0.5%

6

Clamping method

Hydraulic clamping

7

Round specimen clamping range(mm)

Φ6-Φ40

Φ6-Φ40

Φ6-Φ40

8

Flat specimen clamping range(mm)

0-30

0-30

0-30

9

Max. flat specimen clamping width(mm)

75

75

75

10

Max. tension test space(mm)

670

670

750

11

Max. compression test space(mm)

430

430

500

12

Cabinet dimensions(mm)

1100×700×950

13

Load frame dimensions(mm)

840×720×2000

840×720×2000

920×820×2200

14

Pump motor power (KW)

2

15

Load frame weight(Kg)

2600

2600

3300

16

Column net distance(mm)

480

480

580

17

Compression platen size(mm)

204×204

18

Span of bending roller(mm)

300

19

Width of bending roller(mm)

140

20

Shearing specimen diameter(mm)

Φ10

21

Max. piston stroke(mm)

150

22

Host structure

4 column 2 lead screw
More Products