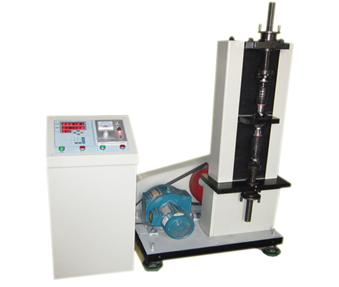 Introduction
JPJ-5 shock absorber fatigue test machine
1、mechanical shock absorber used for fatigue test machine
1.1 mechanical shock absorber fatigue testing machine is mainly used for used on all kinds of automobiles, motorcycles, electric tricycle, etc. a motor vehicle of cylinder type damper fatigue life test, replacement test aids can also be used for all kinds of helical spring fatigue test. Can also produce special fixture, in order to adapt to the special specimen fatigue test.
1.2 the machine has the advantages of reasonable structure, simple and reliable, and the test space adjustment, the adjustment of the test schedule, the convenience of the test piece, convenient and reliable; the machine is stable, easy to maintain, maintenance and so on. And can be technical requirements, adjust the amplitude and frequency.
2、 mechanical vibration damper fatigue test machine features:
2.1 adjust the amplitude and frequency according to the technical requirements of the shock absorber.
2.2 preset test times automatically stop.
2.3 automatic stop function with shock absorber.
2.4 simple operation, reliable and stable operation.
3、The main technical indexes of mechanical shock absorber fatigue test machine:
3.1 maximum static test force (N) 5000
3.2 frequency 0.5 ~ 5 Hz
3.3 amplitude of 0 ~ 50 mm (100mm)
3.4 counter capacity 9 x 109
3.5 count down 1
3.6 the sample maximum diameter with 90mm
3.7 maximum length 1000mm
3.8 power supply voltage 380 VAC 50 Hz
More Products