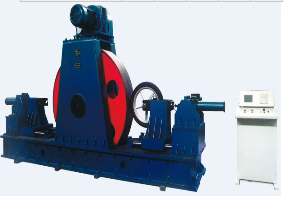 Introduction
One brief introduction:
1, use: wheel radial load fatigue test machine, also known as the microcomputer control of motorcycle light alloy wheel radial load fatigue test machine or motorcycle tire endurance testing machine or motorcycle tire life test machine. The test machine is mainly used for the radial load fatigue test of the light alloy wheel of the motorcycle and the light alloy wheel. This machine is a double working position structure.
2, reference standards:
1) QC/T211-1996 "test method for light alloy wheels for motorcycles and light alloys"
2) JASOT203-85 "motorcycle light alloy wheel"
3) IS08644-2006 "motorcycle - light alloy wheel - Test Method"
4) GB/T22435-2008 "light alloy wheel of motorcycle and light wheel"
5) GB/T6147-92 "testing machine packaging, packaging logo, storage and transportation technology requirements"
At the same time, it can also meet the standards of users: such as Japan's YAMAHA, Honda, etc.
Two, the main technical parameters:
1, the maximum test force: 10KN (and other 20kN optional), showing the value of accuracy: 20%FS 1% (static measurement)
2, the largest drum surface line speed: 120km/h
3, drum diameter: 1707 + 0.25mm
4, drum face width: 300mm (another 400mm, 330mm optional)
5, load control and measurement accuracy: 1% given value.
6, show the number of test times and test mileage: 106
7, the diameter of the test wheel: 200-770mm (after the tire)
8, motor total power: not less than 15kw.
9, test station: 2
10, power supply: ~ 380V 10% 50Hz must have reliable grounding measures ~ 220V + 10% 50Hz
11, after the device is in place, need to expand the expansion bolt.
More Products