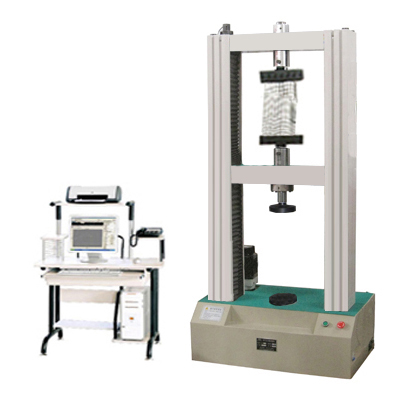 Introduction
One purpose
WDW series microcomputer control electronic universal testing machine (series of geotextile * gantry structure), mainly for all kinds of glass fiber geotextile, plastic warp knitting geotextile, the geotextile synthetic material, geotechnical grille tensile, bursting, punctures and other mechanical properties test. Precision automatic control and data acquisition system, the data acquisition and control process of the full digital adjustment. In the test, the maximum load carrying capacity, pressure, tensile strength, compressive strength, elongation deformation, elongation and other technical indexes are detected. After the test is over, the test parameters are automatically calculated by the computer according to the test parameters, and the corresponding test results are displayed, and the test parameters can be displayed after the end of the experiment, and can also be connected to the printer for printing output.
Two, features
1 with remote control box, can realize the fast / slow adjustment of the beam, the operation is flexible and can be switched freely.
2 function, intelligent, efficient, and quick to return to the initial position after the test is finished.
3 have any working position limit protection function and overload, over current protection function, reliable, safe.
4 self built a powerful test database, test data can be saved, query, call
5 can achieve constant rate force control, constant rate stress control, constant rate deformation control, constant speed control, constant speed control, constant speed control, constant speed control, constant speed control, constant displacement control and user programming control.
6 can be switched to display a variety of test curves: stress-strain curve, force deformation curve, force displacement curve, force time curve, deformation time curve, displacement time curve, force strain curve. Local amplification of experimental curves and comparison of multiple curves.
7 increase the attachment can also complete other materials of the tensile, compression, bending, torsion and other test test
Three, testing machine design, manufacture, inspection according to the following criteria
1 GB/T2611-2007 "general technical requirements for testing machine"
2 GB/T16491-2008 "electronic universal material testing machine"
3 JJF1103-2003 universal testing machine computer data acquisition system evaluation
4 GB/T13763-1992 geotextile testing method for trapezoid tearing strength
5 19470-2004 GB/T soil engineering composite plastic soil engineering
6 JT/T520-2004 highway engineering geosynthetic fiber needle punched Geotextile
7 GB/T17690-1998 plastic woven geotextile
8 GB/T 1040.1 - 2006 "determination of tensile properties of plastics - part first: General Test Method"
9 JTJ239-98 water transport engineering application technology specification
10 JC839.1-1998 glass fiber reinforced earth engineering grid pavement
11 JJG1391999 "tension, pressure and universal testing machine verification regulation"
More Products