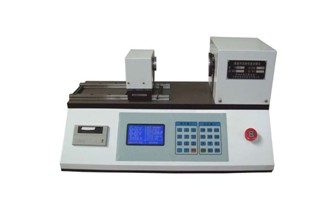 Introduction
product name :Horizontal Spring Fatigue Testing Machine
product specifications :TNS-W0.5 1 2 5 10 20 50 100 200N.m
1.Introduction
1)Used in torsion test for various torsion springs,volute springs,for test of torque at certain angle or the angle of certain torque and also for test of other elastic elements and friction mechanism.
2)Widely used in quality control,mechinery, chemical industry, scientific and research institute, etc.
3)Adopting photoelectrical encoder for acquisition of torsion angle θ,high precision torsion sensor for torque T.Digital display torque T, torsion angleθ, test speed.
4)Test mode: set torsion angle for test of torque; or set torque for test of torsion angle.
5)With peak hold and data inquiry function.
2.Technial Specification
1) Max. torque(Nmm):10000
2) Accuracy Class :1
3) Measuring range of load: 2%~100%FS
4) Relative error of indicating value: ±1.0%以内
5) Torque resolution(Nmm):1
6) max. Reading of torsion angle ( °): 9999.9
7) min. Reading of torsion angle ( ° ) :0.1
8) span of torsion disc(mm):0-300mm
9) torsion speed(r/min):0.1~10
10) power supply :220VAC 50Hz
11) Dimension of machine (mm): 680*500*500
More Products