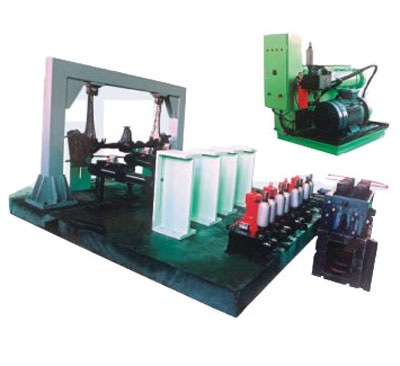 Introduction
Fatigue testing machine is a kind of machine which is mainly used to test the fatigue properties of metal and its alloy materials at room temperature.
Fatigue testing machine is characterized by high load, high frequency, low consumption, thereby reducing the test time and reduce the cost of testing.
Fatigue testing machine is used for the determination of fatigue properties, fatigue life, fatigue life, fatigue life and crack propagation test of metal, alloy material and its components (such as operating joint, fixation, screw, etc.) at room temperature. High frequency fatigue testing machine equipped with the appropriate test fixture, sinusoidal load under three point bending test, four point bending test, sheet metal tension test, thick plate tensile test, strengthening steel tensile test, chain tension test and fixedly connected parts test, a connecting rod test, torsion turn fatigue test, combined bending and torsion fatigue test, interactive curved fatigue test, CT test, CCT test and fatigue testing of gears etc..
Fatigue testing machine:
PLS-20-4 electro hydraulic servo multi - channel automobile component fatigue testing machine (system) is used for automotive components
General equipment for fatigue testing, the use of electro hydraulic servo technology, microcomputer automatic control, through a number of
Actuator assembly load. The device has the advantages of convenient operation, safety and reliability, and more control of the waveform,
The characteristics of high measuring accuracy, fast response, and can be used in the fatigue test of various automobile components, but also widely.
Fatigue testing of components used in mechanical industry, construction industry, vehicle, aircraft manufacturing industry.
Fatigue test machine input waveforms are: sine wave, triangle wave, Fang Bo, oblique wave, etc..
Actuator: 1-8
Actuator size: 10KN\20KN\50KN\100KN\200KN\500KN\1000KN
Actuator stroke: 150MM (also can be customized according to user requirements)
Frequency: 0.01---100HZ
Fatigue testing machine for the installation of actuators: horizontal, tilt, vertical, etc.
More Products